Ex-Mayor of Syracuse Throws Hat in Gubernatorial Ring; Challenges Cuomo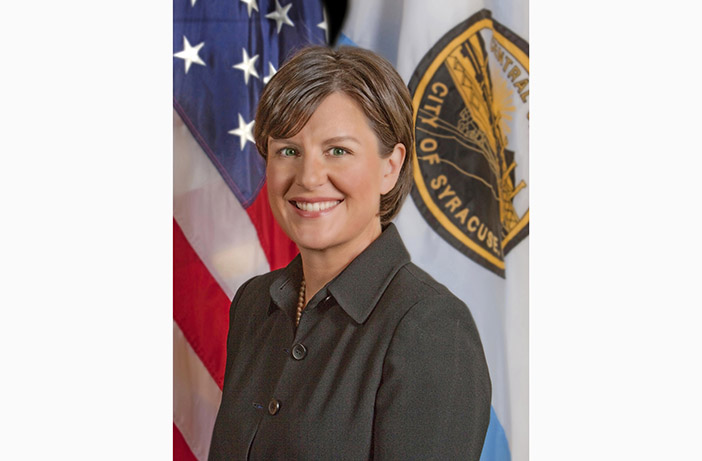 Cynthia Nixon won't be the only underdog female challenger to incumbent Gov. Andrew Cuomo. Unlike Nixon, this challenger has political experience.
Governor Cuomo, meet Mayor Stephanie Miner, former mayor of Syracuse. Miner announced an independent bid for governor last Monday. Her announcement comes with some symbolism.
"Both parties are complicit in accepting a culture of corruption that is rampant in Albany," Miner told the Daily News. "They work within that culture and find it acceptable. I d not, have not and will not," she said.
Miner's announcement comes on the same day a federal corruption trial involving some of Gov. Cuomo's top upstate economic development projects is beginning.
After years as a party insider, she said she now wants to run as an outsider pushing change.
"The path to victory is to say that people are more important than partisanship," Miner said.
The former mayor will run with backing of the Serve America Movement, said consultant Sherman Jewett, who will serve as Miner's campaign manager, the Daily News reported.
Democrats wonder why a candidate with such little funding and public recognition would run, even going so far to suggest she could help the Republican candidate win this fall. One of these Democrats, a friend of Miner's, said he thinks she shouldn't launch such an unlikely bid.
Nassau County Democratic Chairman Jay Jacobs said he considers Miner a friend, but believes she is wrong in launching a long-shot bid for governor. "I'm sure her motivations come from the best, but I think we serve America best by keeping Democrats united against a very strong radical conservative movement in this country," Nassau County Democratic Chairman Jay Jacobs said. He went on to say that "everything that works to divide us only diminishes our chances for success and increases the opposition's."
Her longshot candidacy does have a few people intrigued, even those who were at first skeptical. Bill Samuels, a wealthy Democratic activist, initially told The Daily News on Saturday he did not think it made sense for her to run at this late date but changed his mind a few hours later.
He wants to support Miner over Cuomo or Nixon, believing that the incumbent who won over 95 percent of support at the Democratic Convention is running an uninspired campaign.
"I find it intriguing," Samuels said of a Miner run. "I happen to think she's a very competent candidate compared to Cynthia and that's what I'd support her," he said.
James Buckley won his bid for the U.S. Senate on the Conservative line in 1970, which was the last time a third-party candidate won a statewide New York election.
"Traditionally, third party candidates do not fare well in New York elections," Greenberg said.
A poll while Miner was still mayor last year showed Cuomo defeating her in a gubernatorial matchup in her home city of Syracuse, the Daily News reports, and she left office because of term limits. She went on to teach at New York University.
By: Patrick Hotard