The Negev Blooms, Offering Better Resources for Expectant Mothers & Families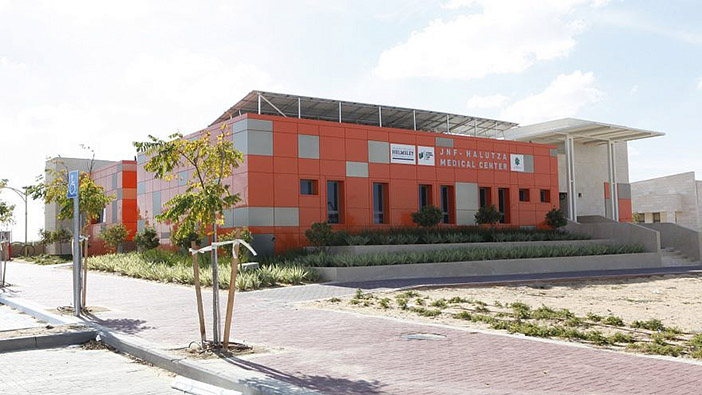 Located two hours from the nearest hospitals in Eilat or Beersheva, childbirth for women living in the Central Arava's seven communities was a fearful ordeal
Deep in the heart of the Arava, as the glow of the afternoon sun dances across the mountains of Jordan, just on the other side of the valley, two Israeli women in their second and third trimesters of pregnancy patiently sit, listening to the soft desert breeze across the date trees outside of the JNF-Arava Medical Center. As nurse Sara Grunow walks out into the air-conditioned waiting room facing the Zen garden and children's playroom, the two women instantly feel a sense of comfort.
No, this is not some kind of maternity retreat center or a prenatal yoga class, but rather the local medical center in Sapir—a slice of paradise these three women are privileged to call home deep in Israel's Negev Desert.
"The area is so free and open. It is unbelievable to just walk outside, and breathe fresh air and see the sky," said Grunow, who emigrated with her family from Germany and has been living in the Arava for years. She works as the Arava Medical Center's full-time nurse, specializing in prenatal and neonatal care for expectant mothers. While she describes her life in the Arava as close to perfect, for the increasingly growing number of young mothers who are choosing to make this region their home, such comfort was not always the case.
Located two hours from the nearest hospitals in Eilat or Beersheva, childbirth for women living in the Central Arava's seven communities was a fearful ordeal. Routine checkups were anything but simple, and required more than four hours of travel just for an ultrasound.
"Having to sit on the bus for two hours as a pregnant woman experiencing nausea is a horrifying experience," related Grunow.
Today, the new Daniella A. and Irving J. Grossman JNF-Arava Medical Center, opened in 2014, has provided an unprecedented level of services and facilities for community. Additionally, the medical center continues to provide care for the elderly, allowing senior residents to see their grandchildren grow up in a family environment.
Ruty Ben Elyahu, one of the original founders of the Central Arava, remembers the struggle of everyday life having raised her own children in the area. "You can't even compare what was then to what is now," she said, staring across the vast green agricultural fields that fill the valley. As longtime residents and matriarchs of the Central Arava, Grunow and Ben Elyahu are seeing a growing number of young families making this part of Israel their home.
For young couples, Israel's periphery offers an alternative to the overpopulation, pollution and high cost of city life, even as it works on offering more job opportunities, social services, and cultural and entertainment outlets. As part of its mission to bring 500,000 new residents to Israel's Negev Desert—in line with its groundbreaking "Blueprint Negev initiative"—Jewish National Fund-USA has focused on the needs of young mothers, providing communities such as the Central Arava and Halutza with essential facilities to attract families.
Lia Novogrotzky, a mother of three who moved to Halutza three years ago, made a choice to raise her family in this environment. "It's so much easier to go through pregnancy when there's a clinic that's close by," she said.
Halutza was founded by JNF as a group of three communities for the families who were evacuated from Gush Katif following Israel's 2005 disengagement from Gaza. Young families soon followed these new-age pioneers, including Novogrotzky, who went through her third pregnancy while living there. Not only did she have a clinic close by, she said she received care from nurses who treated her like family.
But as little as six years ago, she acknowledged, "there was nothing."
For Novogrotzky, the accessibility for all her medical needs is a dream, especially with a clinic as state-of-the-art as the newly built one in Halutza.
JNF-Halutza liaison Yedidya Harush described the medical center as life-changing, helping make what was once a difficult move to the desert community a smoother transition thanks to these services.
"Life in Halutza is a quality life," he said. "It is simple and quiet. It is one big family."
By: Erika Sallen
(JNS.org)