Weinstein Laughs While Being Arrested By NYPD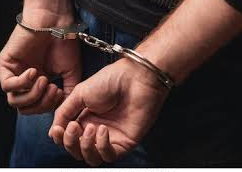 The 66-year-old disgraced movie mogul was arrested, processed and booked for the alleged sexual assault of two women shortly after 7:30am, arriving alone in a chauffeured SUV before being taken in to the station by two members of the special victims unit, Daily Mail reported.
The movie mogul, looked relaxed and was seen smiling as the police took him away this morning.
Weinstein's attorney Benjamin Brafman met him in court, holding his client's passport for all to see before surrendering it to the judge as part of his bail. Brafman over a cashier's check to cover the $1 million cash bond before leaving the court, with Weinstein heading off alone to be fitted for his electronic monitoring bracelet.
Weinstein was ordered to remain in New York or Connecticut as he prepares to face trial, Brafman told the media.
'Your honor, the defendant is before the court charged with two violent B felonies for two separate violent sexual assaults against two women,' said prosecutor Joan Illuzzi, who previously led the trial of Dominique Strauss-Kahn.
Lucia Evans was one of the women named who brought the charges. Evans claims she was forced to preform a sex act for Weinstein. The second woman worked with Weinstein when she claims he forced himself on her at the DoubleTree Hilton in Manhattan.
Weinstein has been accused of rape, assault and other forms of sexual misconduct. Weinstein's representative has said he sought treatment after the accusations, and Brafman repeated in his statement Friday that his client has said he "never engaged in non-consensual sexual behavior with anyone.", Fox News reported.
Asia Argento,  actress the daughter of famed Horror & Suspense director, Dario Argento, tweeted out "What took you so long Harvey" and  that she was a  popping champagne bottle. Argento has been one of the most vocal in speaking out against Weinstein .
"Predators eat people, and he ate a lot of my life and I want my life back.  Since the news broke, even though his face is everywhere, I haven't had a single nightmare for the first time", Rose McGowen told NBC's Megyn Kelly. "To see him in cuffs on the way out, whether he smiled or not, that's a very good feeling", McGowen also stated this morning.
Weinstein is also under investigation for alleged sex crimes in Los Angeles and London. Federal prosecutors in New York have started a sex crimes investigation involving him, according to the Wall Street Journal., Fox News Reported