Staten Island Wheel Project Still Not Spinning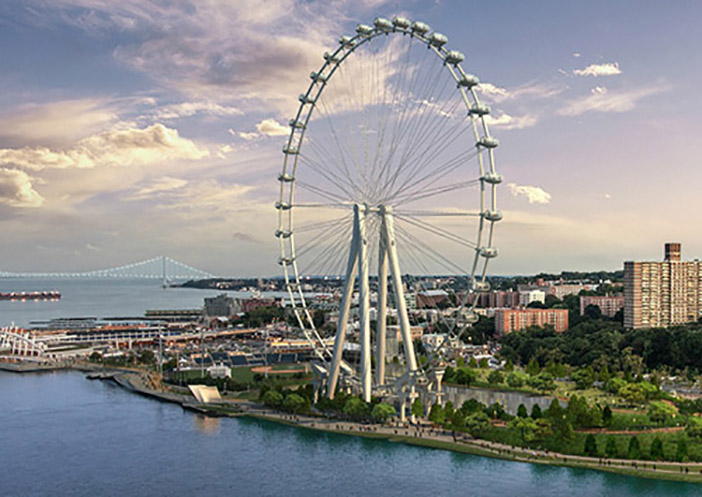 Six years after it was announced, the plan to build one of the world's largest Ferris wheels on Staten Island is still stuck on the ground and going nowhere.
The four pedestals for the wheel, each weighing 100 tons, remain the only components of the 630-foot (192-meter) structure erected to date on a site on the Staten Island waterfront, VIN news reported.
The project, originally budgeted at $230 million, has been repeatedly stalled due cost overruns, delays and disputes between investors. Work on the New York Wheel stopped completely May of 2017 when the main contractor on halted work and was fired.
The proposal got a glimmer of hope last week when New York Wheel LLC, the company behind the project, reached an agreement with the contractor, Mammoet-Starneth, to resolve some of their legal disputes. The agreement gives until Sept 5th to decide to resume or permanently end the project.
"This settlement will allow New York Wheel the opportunity to finalize its financing arrangements and re-commence the construction and completion of the Wheel," the developers said in a press release.
The Jewish Voice reported in November of 2017, that brave plans to build the world's tallest Ferris wheel in the North Shore of Staten Island were expected to help turn the St. George Ferry Terminal into a bustling tourist destination, however the price tax for this huge development kept rising. TVJ reported that the project had run into unexpected expenditures which are common for an endeavor of its size. Then a dispute between dispute with the wheel's former contractor, Mammoet-Starneth, ground the project to a halt and bled into a Delaware bankruptcy court
Currently, around 2.5 million tourists ride the Staten Island Ferry annually. Developers project that the New York Wheel will have 4 million riders per year. Tourism experts however doubt the possibility of so many visitors, TJV reported in November. Many locals in Staten Island do not want an additional tourist destination in their back yard, while City officials are still in love with the Bloomberg era project.
"We are pleased to see these positive steps taken with the wheel, and look forward to this transformational project adding to the swell of new jobs and economic growth we're seeing in the area," said Ryan Birchmeier, a spokesman for the city Economic Development Corp.
The 630-foot Ferris Wheel when first proposed would have been the largest in the world. Currently the High Roller in Vegas is the world's largest at 550-feet. Since then, Its projected height has since been surpassed by the 689-foot (190.5-meter) Ain Dubai or Dubai Eye, now under construction in the United Arab Emirates.
By Victor Hazzan