Israel's Neta Barzilay Wins 63rd Eurovision Despite BDS Campaign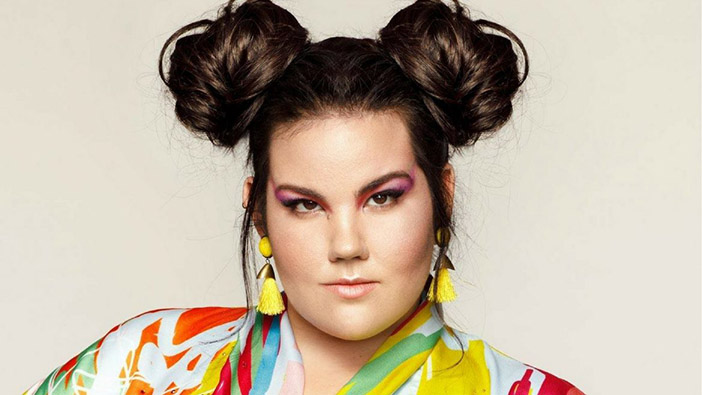 Israel has won the 63rd Eurovision which was held in Lisbon on Saturday night. The Israeli representative Neta Barzilay received a total of 529 points for her song TOY, beating competitors from 25 other countries. Coming in second was Cyprus' Eleni Foureira, who received a total of 436 points for her song Fuego.
This is the Fourth time Israel has won the European song contest, with previous victories going to the songs Abanibi in 1978, Helleluyah in 1979, and Diva in 1998, and as the victorious country generally gets to host the following year's competition, it seems that the 2019 EuroVision will be taking place in Jerusalem.
"I'm so happy. Thank you so much for choosing difference. Thank you so much for accepting differences between us. Thank you for celebrating diversity. Thank you," Neta said told the watching crowd of millions, adding "I love my country. Next year in Jerusalem!".
Prime Minister Binyamin Netanyahu called Barzilay to congratulate her, saying "We love you," in the name of the nation, also Tweeting, "Neta, you're a real Kapara. You've brought a lot of honor to the State of Israel. Next year in Jerusalem!"
In the days leading up the Eurovision competition, INN had reported that anti-Israel hackers had set their sights on Barzilay, hoping to block fans from voting for the singer by overloading online applications which count votes for the singer.
Last week, Boycott, Divestment and Sanctions activists launched a campaign aimed at barring Netta Barzilai, Israel's contestant at the Eurovision, from advancing to the finals.
Dubbed the "Eurovision Boycott of Israel" and using the hashtag "#ZeroPointsIsrael", the campaign called on music fans not to vote for Barzilay, claiming that a vote for the Israeli singer would be seen as a sign of support for the State of Israel.
"If you live in one of the participating countries, take care to participate in the televoting and give Israeli Apartheid zero points – and ask your friends and family and anyone you know to do the same. If the Israeli song is eliminated already at the semi-finals – well and good, nothing further should be done. If the song does get into the finals on 13 May, then the effort should be repeated and redoubled," the campaign urged.
By: Yona Schnitzer
(TPS)