Suspected Chemical Attack by Assad kills Hundreds of Women & Children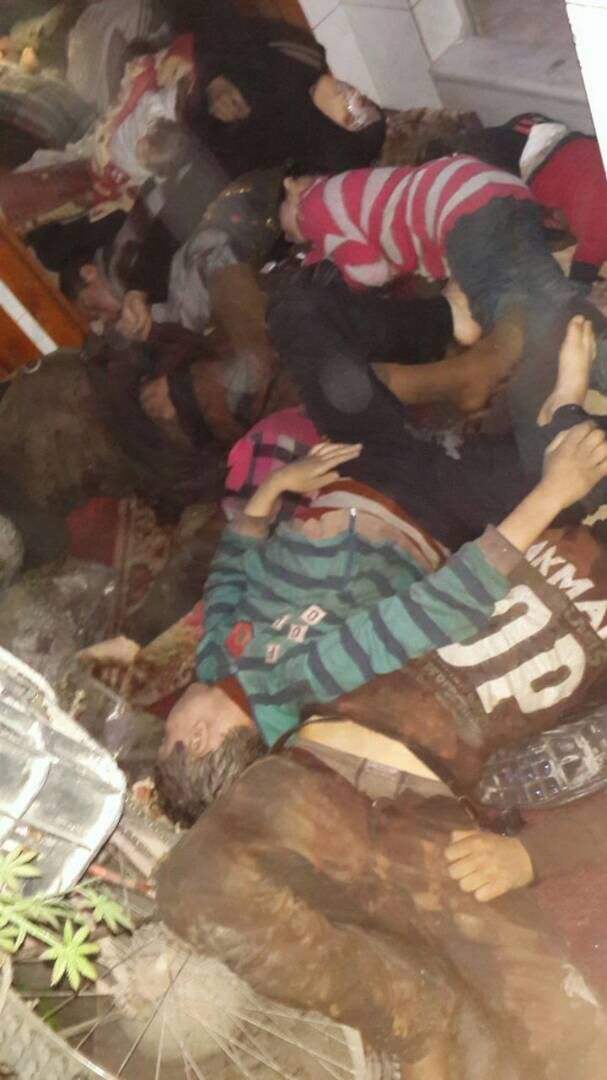 Some 200 people were killed over the weekend in a suspected chemical attack in Douma, a city 10 km. northeast of Damascus, Syria,  WIN news reported.
The opposition-affiliated Syrian Civil Defense, also known as White Helmets, said that most of the fatalities were women and children.
Douma is the last rebel-held stronghold near Syria's capital, controlled by Jaysh al-Islam (Army of Islam). The death toll was expected to rise as many people were in critical condition.
 "White Helmet volunteers are trying to help the people, but all what we can do is evacuate them to another areas by foot because most of the vehicles and centers went out of service", Raed al-Saleh, head of the White Helmets rescue group, told Al Jazeera News.
     US State Department spokeswoman Heather Nauert said that Washington was closely following "disturbing reports" of the alleged chemical weapons attack on a Douma hospital.
     These reports, if confirmed, are horrifying and demand an immediate response by the international community," Nauert said in a statement.
President Trump  responded  by placing blame on Putin & Iranian leadership for backing Assad. "President Putin, Russia and Iran are responsible for backing Animal Assad. Big price to pay" Trump said in back-to-back tweets. "Open area immediately for medical help and verification. Another humanitarian disaster for no reason whatsoever. SICK!"
Recently President Trump had signaled that he was considering removing US forces from Syria.  Senator McCain blamed Trump  for the attack and said "emboldened by American inaction, Assad has reportedly launched another chemical attack against innocent men, women and children", according to ABC News.
If the alleged attack is verified this would increase the chances of a US strike against Assad forces.  President Trump said there would be a "big price to pay" and officials in France vowed the country would "do its duty" in responding, Washington Post reported.
The Syrian official SANA news denied that Assad government forces had used chemical weapons. An official Syrian source told SANA in a statement that media affiliates of Jaish al-Islam terrorists are repeating the allegations of using chemical weapons "in order to accuse the Syrian Arab army, in a blatant attempt to hinder the Army's advance."
The source added that the Syrian Arab Army, which "is making a swift and determined advance," does not need to use any chemical materials as "claimed by terrorists' media affiliates."
"The chemical fabrications, which did not serve the terrorists and their sponsors in Aleppo and Eastern Ghouta, will not serve them today either, as the Syrian state is determined to end terrorism in every square inch of Syrian territory," the official source added.
Russia's defense ministry immediately denied and dismissed as false reports that the Syrian government had carried out a chemical attack in Eastern Ghouta's Douma: "We strongly refute this information," Major General Yury Yevtushenko, head of the Reconciliation Center in Syria, said in a statement on Sunday. "We declare our readiness, after Douma is liberated from the militants, to immediately send Russian radiation, chemical and biological protection specialists to collect data that will confirm the fabricated nature of these allegations," he stated.
Assad has not been the only party to use chemical weapons in the Syrian conflict. It is noted that in October of 2017, US State Department  admitted some of the Anti-Assad forces had themselves used chemical weapons, in a travel warning issued about Syria.
The numbers of victims in this alleged attack have been varied between 50-300 based on numerous media outlets.