GOP Bill Urges Designation of Hezbollah as a 'Foreign Narcotics Trafficker'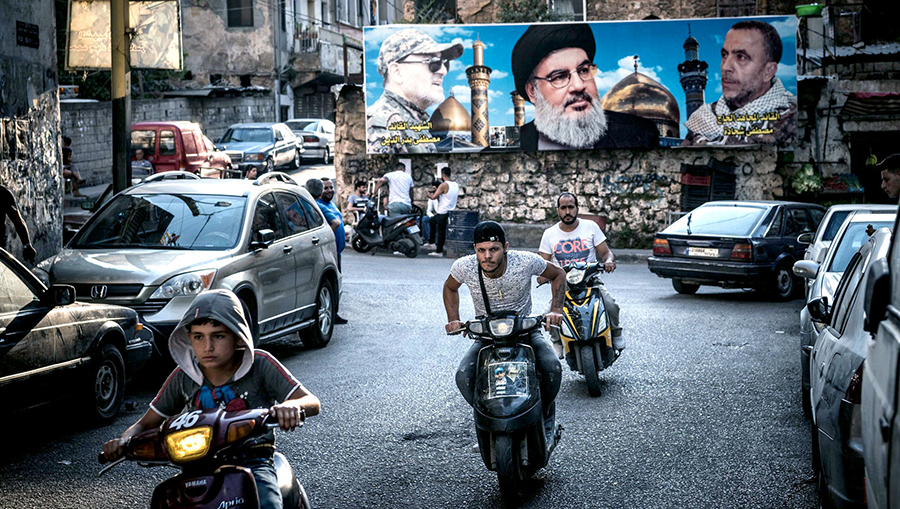 Members of Congress on both sides of the aisle are currently mulling over a GOP sponsored bill that would give President Trump the authority to designate the Hezbollah terror group that has dominated both Syria and Lebanon as "a significant foreign narcotics trafficker" or "a transnational criminal organization".
Both Congress and the Trump administration have ramped up pressure against Hezbollah in the past year with several bills and Treasury Department sanctions already targeting the movement.
Just two months ago the Department of Justice under the leadership of Attorney General Jeff Sessions created the Hezbollah Financing and Narcoterrorism Team (HFNT) to investigate the Lebanese movement's illegal activities.
"The Justice Department will leave no stone unturned in order to eliminate threats to our citizens from terrorist organizations and to stem the tide of the devastating drug crisis," Sessions said in a statement last month.
Treasury Secretary Steve Mnuchin announced new sanctions on six people and seven businesses associated with Hezbollah, in what he characterized as the "first wave" of many sanctions announcements to come, according to a JPost report.
"We will be relentless in identifying, exposing, and dismantling Hezbollah's financial support networks globally," Mnuchin said.
The bill, officially named the "Hezbollah Kingpin Designation Act", is now being considered by the House of Representatives Foreign Affairs Committee, according to a spokesperson for Congressman Ted Budd, a Republican from North Carolina, who had co-sponsored the legislation.
Budd's GOP colleague, Rep Lee Zeldin of New York also served as a co-sponsor and the bill was introduced for consideration on February 15th. In efforts to provide substantive and ironclad claims in their case, both lawmakers cited damning evidence that was published on the subject in a recent Politico report. The report clearly indicated that Hezbollah was maintaining a "robust narcotics operation." The bill references Hezbollah's alleged links to drug cartels in Latin America — which it says date back to 2010 from the US Drug Enforcement Administration's "Project Cassandra" operation which unequivocally identified the Iran-backed Hezbollah group "as a major supplier of cocaine into the United States".
According to the Politico report, Project Cassandra was launched in 2008 after the DEA amassed evidence that Hezbollah "was collecting $1 billion a year from drug and weapons trafficking, money laundering and other criminal activities".
"While I am hopeful that there were no barriers constructed by the last administration to allowing DEA agents to fully bring all appropriate cases under Project Cassandra, this is a significant issue for the protection of Americans," Sessions said when he ordered the review in December.
The new team of prosecutors specializing in international narcotics trafficking, terrorism, organized crime, and money laundering will ensure that "all Project Cassandra investigations as well as other related investigations, whether past or present, are given the needed resources and attention to come to their proper resolution," said the attorney general.
Both Budd and Zeldin's bill mentions the US indictment in 2011 of Ayman Saied Joumaa, a Lebanese-Colombian dual national with ties to Hezbollah, and accuses the movement of "using a global network of companies operating out of Latin America, West Africa, and Lebanon to launder as much as $200,000,000 a month in drug proceeds for Mexican and Colombian cartels," as was reported by "The National" web site.
The legislation will also require the Treasury to issue a report to several congressional committees within one year of the legislation being enacted "containing an estimate of the total assets under direct or indirect control by Hezbollah-linked leaders of political parties or movements who are located in the United States".
"The National" report went on to say that since the "Foreign Narcotics Kingpin Designation Act" was signed into law in 1999, almost 2,000 individuals and organizations have been designated "significant foreign narcotics traffickers", allowing the Treasury to freeze any assets held by the parties in US jurisdictions and to prosecute Americans who help these parties handle their money.
For Hezbollah to be designated under the so-called "Kingpin Act", however, the Treasury would have to prove that the movement "materially assists in, or provides financial or technological support for or to, or provides goods or services in support of, the international narcotics trafficking activities of a specially designated narcotics trafficker", or that it "owned, controlled, or directed by, or acts for or on behalf of, a specially designated narcotics trafficker", or "plays a significant role in international narcotics trafficking".
The president can designate Hezbollah a transnational criminal organization, meanwhile, if he deems it to be either politically or economically destabilizing to the US. Under a program that was initiated in 2011, such designation is followed by the freezing of assets and the prohibition of transactions with the entities or individuals in question, as well as those who "have materially assisted, sponsored, or provided financial, material, or technological support for" them.
If the "Hezbollah Kingpin Designation Act" passes the House Foreign Affairs committee, it will then go to a full vote in the House of Representatives, followed by the Senate. Passage in all three would then take the legislation to the desk of President Trump who will then have 120 days to consider the legislation.
Earlier this month, INN reported that several individuals and businesses with alleged ties to Hezbollah financier Adham Tabaja had sanctions levied on them, according to the White House officials familiar with the case.
Tabaja, a Lebanese businessman, is believed by authorities in the United States to be one of Hezbollah's top five money men, with ties spanning the Middle East and Africa.
It will be a "very bad day for" Tabaja, said a senior administration official, speaking on condition of anonymity.
The sanctions, which are aimed at his managers and at companies based in Lebanon, Sierra Leone and Ghana, include trade bans and assets freezes.
They are said to be the first in a "wave" of sanctions targeting Hezbollah after a policy review by President Trump's administration, according to AFP.
The United States has sanctioned Hezbollah in the past, with the House of Representatives approving in October new sanctions on the Lebanon-based terrorist group, according to the INN report.
The measures would impose new sanctions on any entities found to support the group, such as by providing weapons to Hezbollah as well as sanctions on Iran and Hezbollah for using civilians as human shields.
In addition, Washington has in the past imposed sanctions on Hezbollah leader Hassan Nasrallah and two other members of the organization, for their alleged role in aiding the Syrian government in its crackdown on opposition forces.
The Trump White House is keen to signal a tougher stance on Hezbollah and its Iranian backers, noted AFP.
They argue that President Barack Obama was not aggressive enough in cracking down on Hezbollah financing for fear of derailing a major deal aimed at stopping Iran for getting nuclear weapons.
Indeed, Politico reported in December that the Obama administration actively thwarted a Drug Enforcement Agency (DEA) operation into Hezbollah's drug smuggling operations in the United States in order to appease Iran ahead of the 2015 nuclear deal.
A senior administration official said earlier this month that Hezbollah receives most of its operating budget — about $700 million a year — from the Iranian government and takes orders from the country's elite Revolutionary Guards.
In October, Washington offered multimillion-dollar rewards for two of its officials as the Trump administration developed its strategy for countering Iran's growing regional influence.
Trump has called the 2015 Iran nuclear agreement "the worst deal ever." The new team of investigators will be led by Acting Assistant Attorney General John Cronan of the criminal division and will coordinate with investigators from DEA, FBI, Homeland Security and other organizations.
By: Fern Sidman