Schumer Chides Jews for "Weak Response" to Trump's Alleged "Hatred"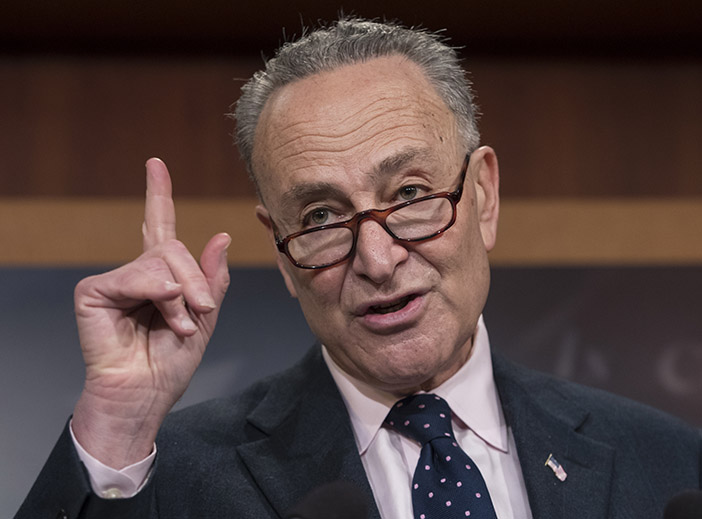 At a Brooklyn meeting last Wednesday between Jewish organizational officials and Democratic legislators, Democratic Senate Minority Leader Chuck Schumer expressed indignation over what he perceived as Orthodox Jews weak response to President Donald Trump's failure to confront hatred in the U.S. According to a report by the Jewish Telegraphic Agency, Schumer referred explicitly to Trump's reaction to a neo-Nazi march in Charlottesville, Virginia this past August, regarding which the President infamously commented that there were good people "on both sides." More specifically, Schumer was irate over the Orthodox community's passive reaction to Trump's equivocation.
According to JTA, Schumer spokeswoman Marissa Kaufman Steering said meetings like the one on Friday "encourage dialogue and an exchange of ideas between Democratic members of the Senate and community leaders." Kaufman also wrote that Schumer touched on issues such as "dreamers, maintaining strong bipartisan support for Israel, the unfortunate rise in anti-Semitism at home and abroad, and the need for Jewish leaders to use their influence by boldly speaking out against words and acts of hate that tear us apart."
Schumer was heavily criticized for his remarks by NY Assemblyman Dov Hikind, according to a report Sunday by Arutz Sheva. In his response, Hikind accused Schumer of remaining passive in response to anti-Israel sentiments espoused by movements such as BDS and Black Lives Matter, and Palestinian activist Linda Sarsour.
"If the Senator was genuinely concerned about confronting hate and anti-Semitism, he wouldn't have given President Obama a pass when the Obama administration did everything possible to marginalize Israel," Hikind opined in a Facebook post. "Where was Schumer when Linda Sarsour showed support for terrorists and undermined the existence of Israel? Or when Black Lives Matter adopted anti-Israel platforms? Has the Senator held press conferences confronting the racist BDS movement, which seeks to isolate and starve innocent Israelis?"
Hikind also decried Schumer's criticism of Orthodox Jews as "the height of political hypocrisy. Singling out Orthodox Jews was distasteful, shameful and arrogant."
According to the Assemblyman, Schumer's statement was "nothing less than his playing to his progressive liberal base."
In its report, the Orthodox Union (which participated in Wednesday's meeting) said that it and other groups had voiced concerns about Trump's post-Charlottesville remarks.
By: Paul Tokayer