Blackstone's Schwarzman the 1st CEO to Make $1B in 1-Year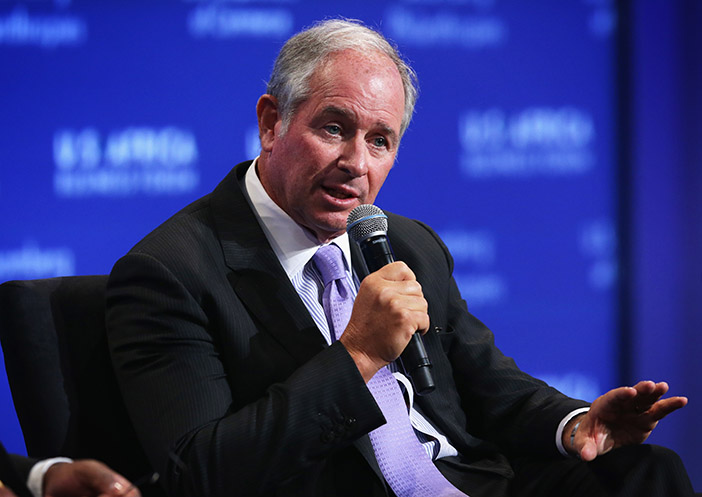 Blackstone Group co-founder Stephen Schwarzman may be the first CEO to make $1 billion in a single year of 2017.
On Thursday, February 1, Blackstone, which is considered the most powerful private-equity firm on Wall Street, revealed astonishing full-year results. As pension funds and other institutions rushed to invest in leveraged buyout funds of the firm, it's under management assets reached $434 billion, an increase of 18 percent. Last year, Blackstone's private-equity holdings increased by 18 percent and by selling off winners, $55 billion was returned by the firm to fund investors.
Blackstone President Tony James said, "We're certainly firing on all cylinders."
Crain's News reports, "There's plenty of wind still at Blackstone's back. On Tuesday the firm agreed to buy a majority stake in Thomson Reuters' financial information business for $17 billion, its biggest acquisition in years. The firm owns many companies that would benefit if President Donald Trump—whom Schwarzman advises—follows through on his notion to invest in U.S. infrastructure. The cut in the corporate tax rate brings also brings benefits. Even better for Blackstone, tax reform left untouched the carried-interest loophole that enables Schwarzman and other money managers to have their earnings taxed at the advantageous capital-gains rate, rather than as ordinary income. Schwarzman's 2017 pay won't be revealed until Blackstone releases its annual report later this month. But the firm disclosed enough information in its earnings report today to suggest Schwarzman is the first CEO of a publicly traded company to make $1 billion a year. That's $1 billion in cash, by the way. Here's how it works. First, Schwarzman is a major stockholder in Blackstone, owning 232 million shares, and he is paid dividends on those shares. The firm said Wednesday that it had distributable earnings of $3.17 a share last year for common stockholders. (It calls them unit-holders, but never mind.) A spokesman said some of that cash is being retained by Blackstone, for a net payout of $2.70 per share. But Schwarzman is in line for an even sweeter payout, because technically his stock is in Blackstone's holding company. For instance, in 2014 he got paid $2.46 per share, 16% more than common investors. Let's suppose his payout is 16% higher than the gross payout to the masses this year too: $3.67 a share. Multiply that by his 232 million shares and you get $851 million."
According to Crain's calculations, for his investments in the leveraged buyout funds, last year Schwarzman received an estimated $42 million. In 2017, he also probably received $100 million from Blackstone's carry pool.
Now if you add up all of Crain's estimates: $851 million, $42 million and $100 million, it comes to a whopping $993 million that was paid out to Schwarzman in 2017, which is close enough to make him the first CEO to get $1 billion in one year.
By Charles Bernstein