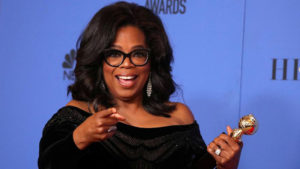 The media world is abuzz with speculation that media mogul and liberal activist Oprah Winfrey may consider a run for president in 2020.
Oprah, fresh off her triumphant Golden Globes speech, seems to be signaling that she is interested in a run for president, according to sources close to the iconic talk show host. Her inspiring acceptance speech on Sunday night in Los Angeles for the Cecile B. DeMille lifetime achievement award focused on female and black empowerment, her roots in poverty and support for those who publicly speak out about the scourge of sexual abuse and harassment as part of the "MeToo" movement.
"I want tonight to express gratitude to all the women who have endured years of abuse and assault because they, like my mother, had children to feed, and bills to pay, and dreams to pursue," Winfrey shared. "For too long, women have not been heard or believed if they dared to speak their truth to the power of those men. But their time is up. Their time is up!"
Now, the Trump administration has weighed in on the matter. According to a Daily Caller report, while on board Air Force One on Monday, White House spokesperson Hogan Gidley was asked if he had a response to Oprah's comments during the highly-touted Globes speech. Gidley said "no" and continued on to say President Trump welcomes the challenge whether it be Oprah Winfrey or anybody else."Gidley went on to say Trump will win reelection "regardless of who's on the ballot."
On Tuesday, President Trump said he could handily emerge victorious if he and Oprah Winfrey were pitted against each other in the 2020 presidential race. One of Winfrey's closest friends said the billionaire actress was "intrigued" by the possibility of running but was not considering it at this time.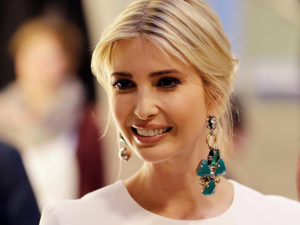 Speaking with reporters during a White House meeting with lawmakers, Trump said in response to a question about a possible run against Oprah, "Yeah I'll beat Oprah. Oprah would be a lot of fun. "I know her very well. … I like Oprah. I don't think she's going to run."
Almost two decades ago on CNN, Trump said that if was to ever run for president, he would choose Ms Winfrey as his running mate, according to a report on the BBC web site.
"Oprah. I love Oprah. Oprah would always be my first choice," he told interviewer Larry King in 1999.
Trump said at the time: "If she'd do it, she'd be fantastic. I mean, she's popular, she's brilliant, she's a wonderful woman."
In 2015–less than one week after announcing his candidacy Trump again suggested that Ms Winfrey would be his top pick for vice-president, according to the BBC report. "I think Oprah would be great. I'd love to have Oprah," he said, adding "I think we'd win easily, actually."
Presidential daughter and White House senior advisor Ivanka Trump took to Twitter on Monday to join the chorus of praise for Oprah as she exhorted both women and men to unite and say "times up," referring to a Hollywood-led movement against harassment.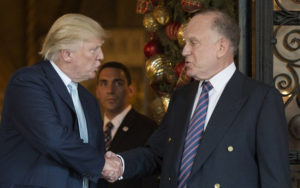 The BBC reported that in November, Ms. Trump told a Tokyo summit that sexual harassment of women should "never be tolerated". Like Oprah Winfrey, Ivanka Trump has been subject of rumors about her potential presidential ambitions.
Long time Winfrey friend and confidante Gayle King said earlier on Tuesday there was no change in Winfrey's past position–that she is not interested in running for president.
"I do think she's intrigued by the idea, I do think that," King said on the "CBS This Morning" program. "I also know that after years of watching 'The Oprah (Winfrey) Show' you always have the right to change your mind. I don't think at this point she's actually considering it."
Winfrey, long associated with Democratic politics and fundraising, has not commented publicly on the speculation. Known to millions by her first name, Winfrey, 63, has been a cultural force in the country for decades.
Veteran actress Meryl Streep said Oprah Winfrey "doesn't have a choice" and must run for president following her Golden Globes speech, according to a Daily Caller report. "She (Winfrey) launched a rocket. I want her to run for president," the 68-year-old actress told the Washington Post following the awards ceremony in Los Angeles.
"I don't think she had any intention of declaring," she added. "But now she doesn't have a choice." "She runs a major company," the actress continued. "She could lead the country. Instead of leading the country down."
But some media commentators also injected skepticism into the surge of excitement among fans of the former talk show star, saying the Democratic Party and the country might well reject the notion of another celebrity political novice following Trump's 2016 election.
The Daily Caller's Benny Johnson wrote: "if Oprah runs she will likely face her own questions over enabling and palling around with some of Hollywood's now infamous sexual predators. In particular, Oprah has maintained a close professional relationship with Harvey Weinstein over the past two decades. Weinstein saw his career go down in flames after dozens of women came forward to accuse him of sexual harassment and assault, and Winfrey's chummy relationship with Weinstein has been pointed out by a number of Twitter users who have posted photos of Oprah kissing and hugging the notorious sexual predator."
Winfrey has raised millions of dollars for various causes, including shelters for battered women but, like Trump when he launched his White House campaign, but she has no prior experience in government. Trump, a businessman and former reality TV star, based part of his appeal on the fact he was truly not a Washington insider.
"NOPRAH! Do we really need another celebrity president?" read the front page of Tuesday's New York Post. A critique in Slate on Monday was headlined "Oprah? Really?," and bemoaned the "impossibly boring" current crop of major political figures, making people more likely to vote for celebrities like Trump or Winfrey.
Trump and some of his family members have been under fire as of late, due to unconfirmed charges against them in the gossipy, bombshell book, "Fire and Fury: Inside the Trump White House"
On Monday, Ha'Aretz reported that billionaire and president of the World Jewish Congress Ronald Lauder, who has known Trump for decades, published a statement praising the nation's commander in chief and expressed confidence in his functioning.
"I have known Donald Trump for over 50 years, dating back to his time as a student at the University of Pennsylvania. And I now have had the privilege of working with him on some of the most complex diplomatic challenges imaginable," the statement says.
Ha'Aretz also reported that Lauder stated: "The president I have seen is a man of incredible insight and intelligence. But he is not a politician and that confuses his critics." He added that "When President Trump refuses to speak in stale political platitudes, his critics think he is missing something. But the truth is President Trump speaks to the country in an authentic and genuine way that Americans understand and appreciate."
By: Daniel Rogosky