After a surprising season, the New York Yankees, a franchise expected to be in transition, who in fact, finished only one win shy from making the World Series, have pulled off one remarkable deal as the Bronx Bombers lived up to their reputation by acquiring the best slugger in the game, Giancarlo Stanton, from the Miami Marlins. Desperate to rid the Marlins of Stanton's onerous and expensive salary, new Marlins CEO, Derek Jeter, signed off on the deal which landed his former team the great slugger while the Marlins only received second baseman Starlin Castro, two mid-level minor leaguers and, as part of the transaction, gave the Yankees $30 million.
Stanton voted National League Most Valuable Player in 2017, leading the league in home runs (59), runs batted in (132) and slugging percentage (.631), joins an already power-leaden lineup which includes the only other 50 homerun player this season, American League rookie of the year Aaron Judge who cranked 52 homeruns. There line-up is so dominant now, even Stanton, at last week's press conference gleefully said "I feel sorry for the baseballs". Newly hired manager Aaron Boone also stated, "You add the National League MVP to what we feel like is already a very strong lineup, the possibilities start to run through your head of what that could look like."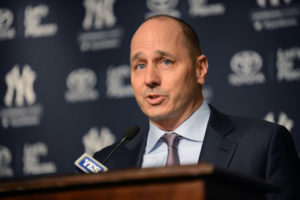 This trade is a big steal for the Yankees, as they are only the 3rd team in history to acquire a reigning MVP. The first trade of this kind happened back in 1914, when the Philadelphia Athletics sold Eddie Collins to the Chicago White Sox for $50,000. Ninety years later, the Texas Rangers sent MVP Alex Rodriguez to the Yankees for infielder/outfielder Alfonso Soriano..
Derek Jeter, one of the most iconic players in Yankees recent history, part of a franchise with some of the most iconic names in baseball like Babe Ruth, Lou Gehrig, Joe DiMaggio and Mickey Mantle, has already made many Miami Marlins' fans angry with his moves to trim salary and add depth to their minor league system. While Jeter only owns 4% of the Miami Marlins, he seemingly, is calling most baseball decisions. Jeter came into Miami with the local community with hopes of making the Marlins a perennial winner but has already departed with some of Miami's best players. In addition to trading Stanton, the Marlins, under Jeter have traded speedster Dee Gordon and power hitter Marcell Ozuna.
In addition to trading three of his best players, Jeter has also raised eyebrows by firing many long-term Marlin employees. How Jeter and the new Marlin owners repair an already ruptured relationship remains to be seen; one thing for certain, the Marlins have helped the Yankees return to home run dominance not seen since the days of Roger Maris teaming with Mickey Mantle the year that the former broke Babe Ruth's single season home run record.
By: David Dweck