Kingsborough CC Exceeds SPARK Targets; Wins Heckscher Funding for 3rd Year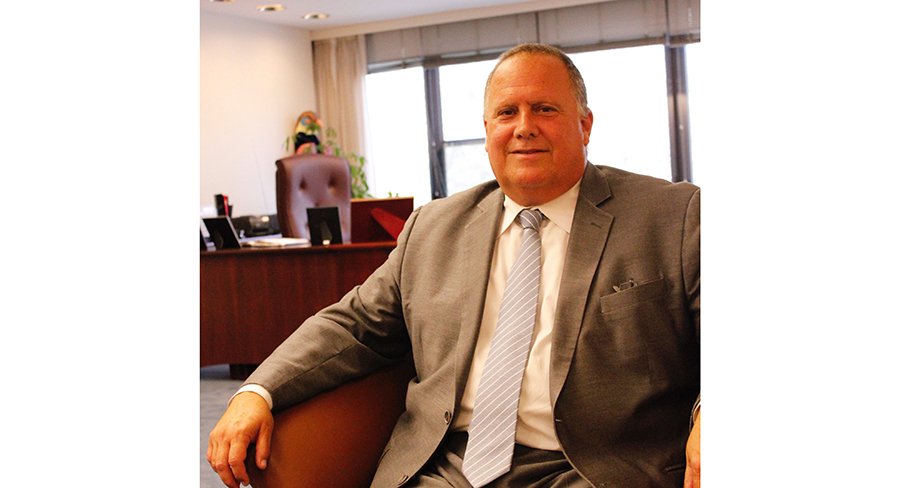 A program that is dramatically improving college retention among students with high remedial needs at Kingsborough Community College will receive more than a half-million dollars from the Heckscher Foundation for Children for the third consecutive year, Chancellor James B. Milliken announced recently.
The program, Strategic Partnerships for Achievement and Retention at Kingsborough (SPARK) aims to close the educational and employment gaps of students entering Kingsborough with the most significant remedial needs, preparing them to transfer to four-year CUNY institutions or enter the workforce. It provides customized financial, academic and personal support, as well as comprehensive case management, including SingleStop services.
The Heckscher Foundation's Board of Trustees last week approved $581,987, bringing to nearly $1.7 million the foundation's support of the program since 2016.
"The City University of New York is gratified by the Heckscher Foundation's commitment and continuing support of the SPARK program, of Kingsborough and of CUNY," Chancellor Milliken said. "This life-changing initiative exemplifies the University's critical goals of expanding access, opportunity and social mobility for low-income, at-risk students."
Heckscher Foundation Chairman and Chief Executive Officer Peter Sloane said, "The SPARK program is an effort to deliver much-needed support services to underserved students at a lower cost. The results are phenomenal. We think Kingsborough is doing an extraordinary job in meeting the needs of first-generation students.
"We establish benchmarks for success for all of our grants," Sloane added. "In each of the years of this program, Kingsborough has exceeded those targets and as a result, we have continued our support."
"Kingsborough appreciates the support and trust that the Heckscher Foundation has placed in us as we strive to work holistically with our most vulnerable students," said Kingsborough Interim President Peter Cohen. "This support allows Kingsborough to continue to address the true mission of CUNY and the role that community colleges play in the higher education landscape: that is to provide access, excellence and opportunity to all."
Students recruited for SPARK generally have received the lowest scores on the CUNY reading, writing and math entrance exams, and placement in the lowest-level English and math courses. However, although starting at the lowest level of developmental education, the Fall 2016 SPARK cohort achieved significantly higher first-semester developmental course pass rates, higher GPAs and more accumulated credits than their non-SPARK peers in remedial English and math, and significantly higher pass rates than students in remediation in past semesters.
Retention rates among the SPARK cohorts are significantly higher than rates among other Kingsborough freshman populations, according to the Brooklyn community college's data:
From the first to second semesters, retention rates stand at 91.1% and 93.3% for the Fall 2016 and Spring 2017 cohorts, respectively, and the year-to-year retention rate stands at 82.9% for the Fall 2016 cohort, surpassing the initial goal of 77%.
Fall 2016 and Spring 2017 SPARK English cohort students completed the English developmental course sequence at rates of 54.5% and 80%, respectively. – significantly higher than regular Fall 2015 developmental English students who completed the English developmental course sequence at a rate of 36%.
Fall 2016 SPARK math cohort students completed the math developmental course sequence at a rate of 58%, significantly higher than regular Fall 2015 developmental math students. Spring 2017 math data is pending.
SPARK is intended as a cost-effective approach to developing and expanding upon Kingsborough's Accelerated Study in Associate Programs (ASAP) model. The high-impact, ASAP initiative, focusing on community college retention and completion, was launched in 2007 at CUNY community colleges. Based on ASAP's success, former Kingsborough President Farley Herzek and his successor, Interim President Cohen, implemented SPARK as a lower-cost ASAP-like solution.
Prior to SPARK, the Heckscher Foundation's previous support of Kingsborough made the Brooklyn College the first CUNY SingleStop center. The foundation gave more than $900,000 in support to Kingsborough's SingleStop facility for three years, 2008, 2010 and 2011, according to Sloane.
The foundation also supported a CUNY Graduate Center effort to identify promising job openings for underserved youth in different New York City industries, Sloane said, and last month, Heckscher committed $100,000 to cover tuition and fees at CUNY for students who left Puerto Rico and the U.S. Virgin Islands after this year's devastating hurricanes.
Prior to the new, 2018 grant for SPARK, the Heckscher Foundation supported the Kingsborough program with $540,674 in 2016 and $540,920 in 2017.
About the Heckscher Foundation for Children
The Heckscher Foundation was founded in 1921 to promote the welfare of children in the State of New York and elsewhere throughout the United States. The primary aim of the Heckscher Foundation's grant-making is to "level the playing field" for needy youth by providing access to education and the varied experiences that make for a richer, forward-reaching life. It seeks to identify underfunded issues or projects that can provide widespread benefit, generate other engagement and funding, and then help leverage that interest to scale. The Foundation also seeks to incubate ideas and initiatives that will lead to high-impact services and improved opportunities. To learn more, please visit www.heckscherfoundation.org.
Edited by: JV Staff
(cuny.edu)